VoD - stream and download - Film catalogue
Our VoD-stream and download catalogue is being constantly extended by further titles and versions. The cover-flow shows some recommendations, in the filmlist you find our complete catalogue, which can be filtered alphabetically. All films have English subtitles or versions, if not marked otherwise. (Click "buy film" to check versions and file size.) Most films by Christoph Schlingensief, Roland Klick, Heinz Emigholz and other Filmgalerie 451-productions are exclusives on this website.
Reported Missing (Die Vermissten)...
Reported Missing (Die Vermissten)
Germany 2012|86 min.
Director: Jan Speckenbach
14-year-old Martha disappears from one day to the next. Her father Lothar hasn't been in contact with either his daughter or his ex-wife for years. He soon realizes other young people are also vanishing from the city inexplicably. Lothar follows their trail across the country but makes no headway until...
further information
Rammbock
Rammbock
2010|64 min.
Director: Marvin Kren
Just when Michael arrives in Berlin to visit his ex-girlfriend Gabi, a terrible virus starts spreading across the city at a rapid pace, turning people into mindless homicidal maniacs. Much to Michael's concern, Gabi's not home; instead, he meets Harper, a teenage plumber's apprentice at work in her apartment...
further information
Roland Klick - The Heart is a Hungry...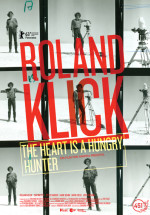 Roland Klick - The Heart is a Hungry Hunter
Germany 2013|80 min.
Director: Sandra Prechtel
The gritty, kinetic, visionary cinema of Roland Klick ...At the age of fourteen Roland Klick was certain: cinema was what his soul was longing for. Filmmaking as an adventure, existential experience and escape from overstructured German post-war reality. The film director as explorer and foreign legionnaire,...
further information